My "Be Kind All The Time" Kindness Calendar
$40.00
$53.00
saving
$13.00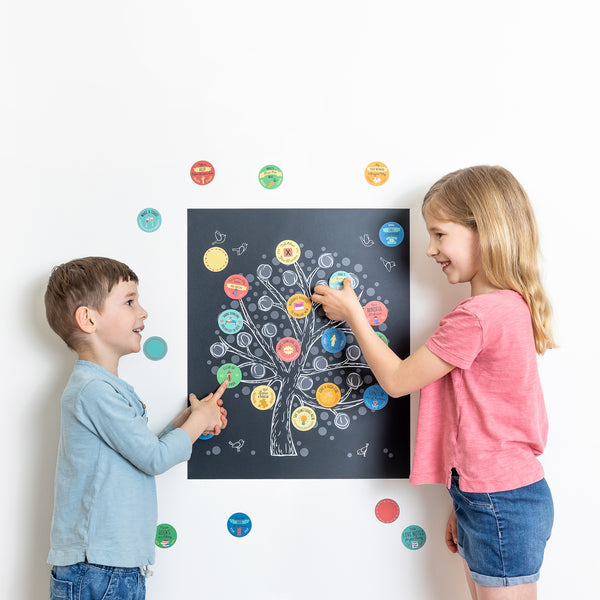 My "Be Kind All The Time" Kindness Calendar
$40.00
$53.00
saving
$13.00
DESCRIPTION

INCLUDES

FEATURES

Inspire kids to be kind every day in a creative way with My "Be Kind All the Time" Kindness Calendar! This reusable wall decal set contains 25 acts of kindness decals, 5 customizable decals, and a beautiful wall calendar designed to please not just children but their parents too as families build a kindness practice together.

Children will love the hands-on child-led experience of choosing a daily act of kindness, adding it to their calendar, and tracking their impact as they go.

Parents will love creating meaningful moments for connection as a family, helping their kids explore new emotions and ideas, and cultivating social-emotional skills like empathy, gratitude, self-confidence, inclusion, a growth mindset, global citizenship and more, all through our carefully chosen acts of kindness which serve as connection points and conversation starters on important topics.

Watch your children's self-confidence soar as they are empowered and inspired to make a difference, think of others, and use their special talents in their own unique and meaningful way!  

Our flexible design includes space for 30 decals, allowing families to customize their kindness calendar any week, month, or celebration throughout the year in countless creative ways. Our premium quality wall decals are designed for little hands and meant to be used over and over again. 

1 Wall Calendar with space for 30 decals, 18"W x 22"H

25 Act of Kindness Decals, specifically chosen to foster vital social-emotional skills and act as conversation starters around:

♡ EMPATHY:  ex. Ask Someone How They are Feeling 
♡ GRATITUDE: ex. Make a Toast!
♡ GROWTH MINDSET: ex. Help Solve a Problem
♡ SELF-CONFIDENCE: ex. Tell Someone what makes you Special
♡ INCLUSION: ex. Introduce Yourself to Someone New
♡ GLOBAL CITIZENSHIP: ex. Learn Hello in a New Language

5 Customizable Decals 

Premium-quality reusable wall decals are durable, removable and reusable, leave no residue behind and maintain quality with each use

Designed in Canada, made in the U.S.A.

Developed in consultation with leading child psychologists and educators

5% of profits to charity 

Best Gift for Kids
The joy has been extended out to my god daughter, nieces and nephews' homes as they use the 'Be Kind All The Time' Calendars.
It is the gift that keeps on giving.
Kindness Calendar
We haven't started using our kindness calendar but are set to do so. It will be a kindness countdown to my son's 4th birthday and we are so excited to get started. The quality is great. The acts of kindness are perfect ideas and we love that we can add some of our own. Excited to get this started and reuse it again in the future.