$19.00
$25.00
saving
$6.00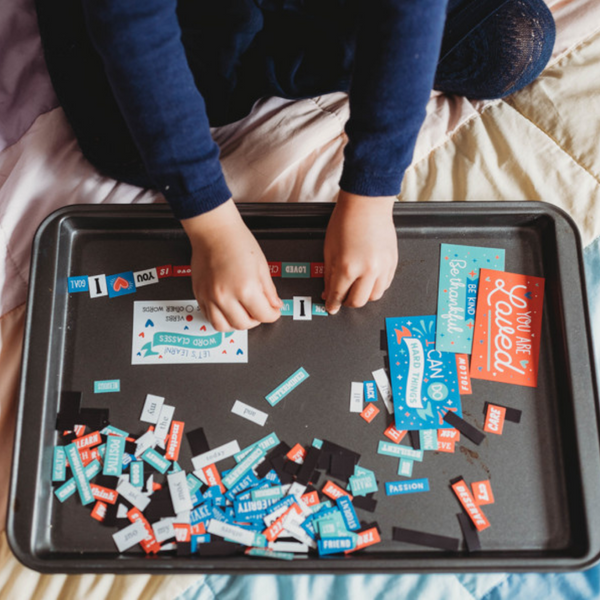 $19.00
$25.00
saving
$6.00
DESCRIPTION

INCLUDES

FEATURES

Practice the power of positive thinking with My Mindset Magnets! This colourful collection of over 200 inspiring words makes it easy and fun to build affirmation, intention and positive mindset statements every day in a creative way and help train the brain so that what you believe is what you become! 

Affirmations are a proven way to help foster self-confidence, resilience, growth-mindset and emotional intelligence in kids and adults alike. And building these skills has never been so fun to do!

Children will love the hands-on experience of creating their own sentences and expressing their emotions in a one of a kind way.

Parents will love encouraging self-expression and positive communication, helping their kids explore different emotions, and cultivating social-emotional skills like empathy, gratitude, a growth mindset and more as families build connection and affirmations together.

Our unique design helps to promote reading and literacy too! Words are colour coded (red for verbs, blue for nouns, and turquoise for adjectives) to help kids learn word classes and sentence structure. Our premium quality magnets are designed for little hands. Durable and reusable, they are meant to be used over and over again! Both fun and impactful, every element is crafted with kids, parents and community in mind. 

4 magnet sheets, 4"W x 7"H



Over 200 inspiring words to inspire countless affirmations like My creative ideas are important, I can do hard things, It is ok to feel nervous and so many more! 



Colour coded magnets (red for verbs, blue for nouns, turquoise for adjectives) to help with literacy 



3 large magnets with inspirational messages, to get your kids started on their affirmation journey

Reusable, durable and premium-weight magnets 



Designed and made in Canada 



Designed in consultation with leading child psychologists and educators



5% of profits to charity 
Love them!
I love that the magnets focus on words of encouragement and empowerment rather than silliness and nonsense. I love silliness too, but with 5 and 7 year olds, we get enough of that already :D
Kindness Magnets
These magnets will be a gift for my kids for Christmas. They are already in the habit of building words with letter magnets and now of the age where they can make use of concepts to create a dialogue about what it means to be kind. In my mind, this is such an important trait to cultivate through dialogue.
Teacher LOVED it
Got this as a teacher gift for a teacher who focused a lot of her time this year teaching the children empathy and conflict resolution skills. She loved it! Thank you!
Love these magnets!
I now spend plenty of time at my fridge creating motivational phrases that serve as inspiration for me and my guests. It's also a fun game to play during dinner parties. Absolutely love this product. It also makes for a perfect addition to a housewarming gift or stocking stuffer.
So cute and great for working on sentence structure
The messaging and vocabulary building with this magnet set is wonderful, but the color coding for sentence structure was a bonus that made them even more awesome. My daughter is just learning to read and put sentences together so she had so much fun putting them together in color order to see what kind of phrases she could make. And I LOVE the empowering messages.