My Kindness Advent Calendar
$38.00
$53.00
saving
$15.00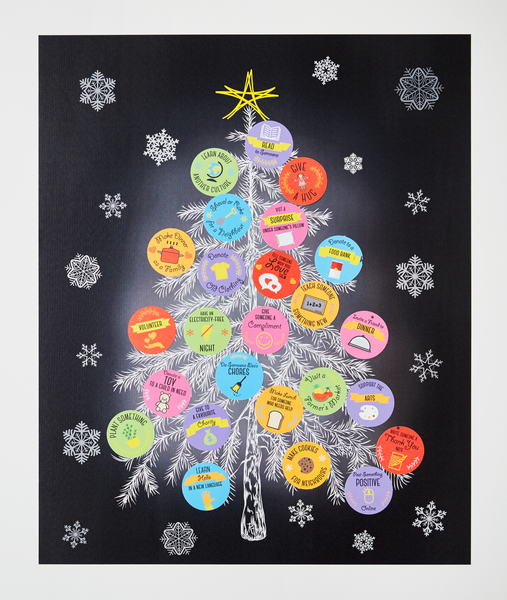 My Kindness Advent Calendar
$38.00
$53.00
saving
$15.00
DESCRIPTION

INCLUDES

FEATURES

My Kindness Advent Calendar is a new tradition for every family who wants to focus on giving back during the holiday season. Like a traditional Advent calendar, My Kindness Advent Calendar helps kids count down to Christmas during the month of December, but instead of getting a chocolate or toy, each day is an opportunity to give an act of kindness. This reusable wall decal set contains 25 acts of kindness decals, 5 customizable decals, and a beautiful wall calendar designed to elevate your holiday decor as you celebrate the season of giving as a family. 

Children will love the hands-on child-led experience of choosing an act of kindness every day from December 1 to December 25 as the anticipation of Christmas approaches! Their self-confidence will blossom as they track their impact all month long and realize their personal power and potential to make a difference in the world around them.

Parents will love creating meaningful moments for connection as a family, helping their kids explore new emotions and ideas, and cultivating social-emotional skills like empathy, gratitude, self-confidence, inclusion, a growth mindset, global citizenship and more, all through our carefully chosen acts of kindness which serve as connection points and conversation starters on important topics. 

Our premium quality wall decals are designed for little hands and can be used every year as your favourite new holiday tradition. Durable, removable and reusable, they leave no residue behind and maintain quality with each use. Both beautiful and meaningful, every element is crafted with kids, parents and community in mind. 

1 Wall Calendar with space for 25 decals, 18"W x 22"H

25 Act of Kindness Decals, specifically chosen to foster vital social-emotional skills and act as conversation starters around:

♡ EMPATHY:  ex. Donate to a Food Bank
♡ GRATITUDE: ex. Write Someone a Thank You Note
♡ GROWTH MINDSET: ex. Teach Someone Something New
♡ SELF-CONFIDENCE: ex. Give Someone a Compliment
♡ INCLUSION: ex. Learn About Another Culture 
♡ GLOBAL CITIZENSHIP: ex. Give to a Favourite Charity 

5 Customizable Decals 

Premium-quality reusable wall decals are durable, removable and reusable, leave no residue behind and maintain quality with each use

Designed in Canada, made in the U.S.A.

Developed in consultation with leading child psychologists and educators

5% of profits to charity 
LOVE
This calendar is amazing! It has activities for all ages and really helped us focus on the season instead of getting gifts. I am excited that it is reusable and we can continue this tradition!
A wonderful tradition
The Kindness Advent Calendar, is displayed annually in my classroom starting in late November. It is a lovely countdown of the school days until Winter Break and teaches wonderful lifelong lessons. Every student gets a turn and can pick from the collection of decals or write one of their own ( if feeling inspired to do so).
Thank you for creating such a delightful experience.
Great tradition!
Well love this calendar.
We ordered a new one this year since my toddler lost some of the stickers last year. The stickers are thick and high quality and it's really easy to store and re-use year after year. It's a great activity to do with the kids at a time of year where it's so easy to lose sight of the whole point of Christmas - rather than getting something every day, it teaches kids to give through kindness!
Amazing
The Kindness calendar is perfect for the person that has everything and loves to give back. It's a wonderful advent calendar that teaches children to be kind and thoughtful.
Best advent activity for our family!
Our family has really loved the focus of this calendar. Love the scripted ideas, and ability to customize a couple of the days. Material is excellent quality, looks to be very durable. Wall cling and doesn't leave sticky residue.